Questionnaire

Module
First off, before you add a Questionnaire to a page on your website, you must create a Questionnaire. You can do this by entering into the "Modules" tab beside the "Site Map" option at the top of your page. On the left side of the page scroll down until you see "Manage Questionnaires" and click on it. This will bring up the Questionnaire Options panel at the top right corner of your page.
Questionnaire Controls
List Questionnaires
This displays any questionnaires that have been created.
Add Questionnaire
Allows you to add new questionnaires. You can add unlimited questionnaires to your site. Like other
Site

Apex
modules, you will also need to create a Questionnaire page to display your questionnaire.
See instructions
for adding Modules to a
Site

Apex
page.
Copy Items
This feature allows you to copy questions from one questionnaire to another. You can add questions to a questionnaire or replace existing questions.
Questionnaire

Options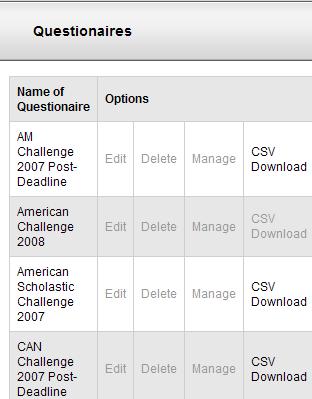 When you List Questionnaires, you will be given four options for each questionnaire:
Edit
Allows you to edit the main configuration options for the Questionnaire.
View more details >>
Delete
Allows you to permanently remove questionnaires that you no longer need.
Manage
This is where the questions are added/edited yo build your questionnaire.
View more details >>
CSV Download
Allows you to export the questionnaire results as a .csv file that can be opened in a program like Microsoft Excel.
View a Demo >>