Newsletter Module
The newsletter module allows you to create newsletters with this option and send them out to people in your user groups, and form responders. The newsletter system is different from the other modules in that newsletters do not display on the website and the design template or wrapper from the website is not applied to the newsletters. Each newsletter is self contained ans what you see in the editor is what is going to be sent.
To access newsletters:
Log in to SiteApex
Click on Modules in the top left corner
Click on News Letters on the left hand side

Working with the Newsletter Module
Once in the Newsletter Module, you will see 4 icons in the top right corner.
View Click Thrus
If click thrus have been added to your newsletter, you will be able to view the number of clicks here.
See Details on Click Thrus.

View History
History keeps track of each time a newsletter was sent and who it was sent to.

In the main listing you will have the ability to delete an item as well as view the details which includes a list of email addresses the newsletter was sent to.
Below is the 'Details' screen for a sent news letter. You will see the time the news letter was sent as well as a list of email address, and the ID number for the User/Group, Form Result, and Business Directory. As noted in the screen shot, duplicate email addresses will show up in this listing only to show all reasons the email address has received the news letter. For example, mikem@osmnetworks.com has received the news letter because it was sent to the group of Form Results as well as the Business Directory listing. We have done extensive testing to ensure that only ONE news letter is sent to each unique email address.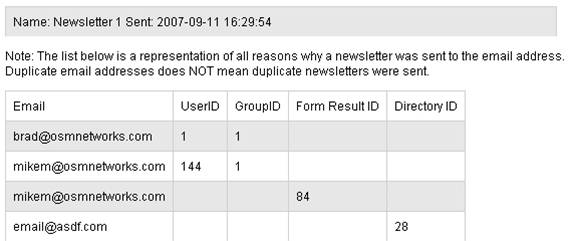 List
This will list all your saved newsletters. Here you have the option to Send, Edit, Delete or Preview each newsletter.
Add
This option allows you to add new newsletters
Working with

Newsletters
When you click on List in the top right corner, each newsletter will have the following options:
Send Newsletter
This will allow you to send your newsletter to your user groups, and form responders.
View Details

Edit Newsletter
You can change the information within the newsletter, as well as the sender's information.
Delete Newsletter
You will be able to delete newsletters that you no longer have any use for.
Preview Newsletter
This will open a new window with your newsletter information on it to give you a view of what it will look like to the receiver.