Creating a

News Feed
Click on Add News Feed in the top right menu
You will be given a blank form page to enter information about your news feed
When you are finished entering information, press [submit] at the bottom to create the news feed
This news feed will now appear when you "List News Feeds" and will also appear in the dropdown when adding an article.
Note:
Creating a news feed does not make the news live on your website. You will have to create a News Page to display the news feed on (see
Setting up a News Page
).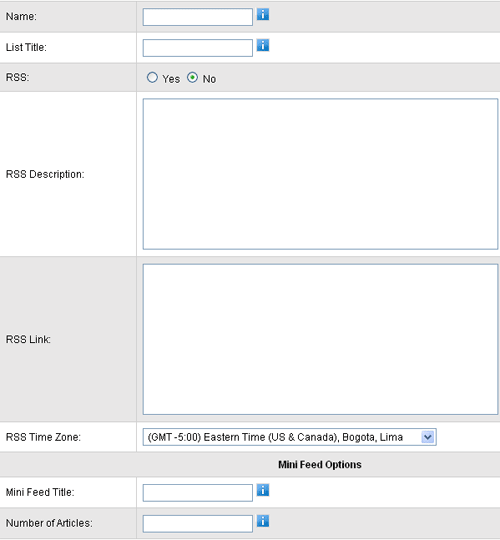 Name:
This is the name of the news feed. You can have multiple news feeds to keep news articles organized for different topics or issues.
List Title:
This will be the title of your news list. It will show above the articles listed on your news page. By default the title is "Other News", filling in your own title will overwrite this.
RSS Options:
News Feeds can also be RSS feeds. For more information on how to use this feature, please see our online support area at www.siteapex.com.
Mini Feed Title:
Some sites have a Mini News feed built into the template. This allows you to give it a title which will appear above the articles.
Number of Articles:
This sets the number of articles to display in the Mini News.
Editing a News Feed
Click on List News Feeds in the top right menu
Click [edit] beside the news feed you want to edit
Update the information boxes as required
Press [submit] to save your changes