Blog

Module
Creating a

Blog
Before you add the Blog module to your site, you must create a Blog. You can do this by entering into the "Modules" tab beside the "Site Map" option at the top of your
Site

Apex
admin page. On the left side of the page scroll down until you see "Manage Blog's" and click on it. This will bring up the Blog panel at the top of your page.

List BLOG's

Shows all of the Blog's that are currently available. Here you can edit, delete and manage your blogs.
Edit Blog
You can change the name of the Blog and the Blog owner.
Delete Blog
This will allow you to delete whichever Blog you wish.
Manage Blog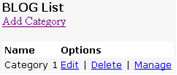 You will be able to add a category of discussion by choosing this. You are allowed to "Edit", "Delete", or "Manage" a category.
"Edit" will allow you to alter the category title.
"Delete" will allow you to delete that category.
"Manage" will allow you to add a posting, or add a quick photo to that category of that particular Blog that you have chosen.
Manage BLOG Settings
This will give you a list of preferences which you can set how you please.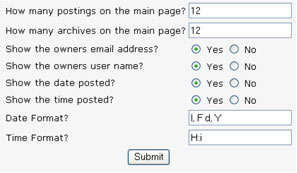 Add Blog
You will be able to create a new Blog.
Manage Profile
This will allow you to change your profile so that users using the Blog, can reference your likes, dislikes, etc. for information on you.
Inserting a

Blog onto a Page
Create a new Section, Category or Page in the Site Map portion of SiteApex.
In the "Type of Page" drop down box, select BLOG and click "Submit" at the bottom of the page.
It will now prompt you to select a Blog you wish to add. Select the Blog you have just previously created and click "Submit" once more.
Note: Blogs are public to view but if you want them to be secure you can
make that page secure
.
You now have a fully operational Blog site! To learn how to create posts on your blog and administer those posts
click here
.